GRAB A COPY OF MY NEW BOOK!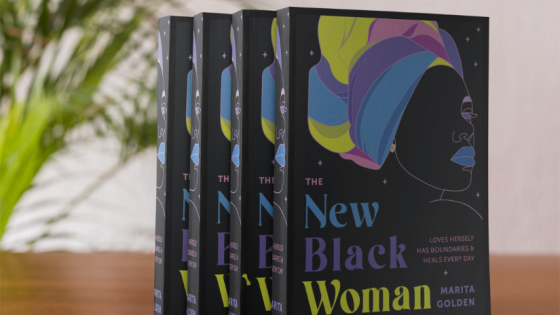 Enthusiastic readers of The Strong Black Woman asked me to write about my self-care practices habits, rituals, and beliefs. The result is The New Black Woman Loves Herself Has Boundaries Heals Every Day. I guide you through contemplative practices like silence and meditation that sustain me and bring me joy. I will help you gain the confidence to set boundaries in your life that will improve your life. Yes said to your need for rest and peace of mind is an affirmation. And No can be a complete sentence. I write honestly about what we have to do to make a commitment to being healthy. This is a book to read and reread and weave into the fabric of your life. Your life as a New Black Woman.
A Woman's Place is part of the "Of the Diaspora"  series of re-released classic books by Black writers issued by McSweeney's Publishers.
Published in 1986 after the award-winning autobiography Migrations of the Heart, A Woman's Place is Marita Golden's first novel.
It is 1968 and everything about being a Black woman in America is changing. A society once walled off has begun opening doors. Against this backdrop, three young women meet at a New England college and form a friendship that endures, heals, and dramatically shapes their lives. With backgrounds and temperaments symbolic of the many questions around attaining selfhood in the aftermath of freedom movements, Faith, Crystal and Serena struggle to exercise personal agency in an era when family history, along with race and gender identities, threaten to dictate their paths.
When Marita Golden decided to write her personal account of the challenges of raising a black son, she didn't intend to write more than her own family's story.
Parenting Black Teen Boys, Improving Black Family Health and Relationships
This new edition has a foreword by best-selling author Nathan McCall and a new introduction by Marita Golden. A new feature is Resource Guide for Parents and Caregivers. "Marita Golden's Saving Our Sons was revelatory when first published and remains so today." Haki R. Madhubuti
Read an intimate account of a mother's efforts to save her son. Writing her son's story against the backdrop of a society plagued by systemic racism, economic inequality, and mass incarceration, Golden offers a form of witness and testimony in a time of crisis for Black Americans. 
BUY YOUR COPY OF SAVING OUR SONS!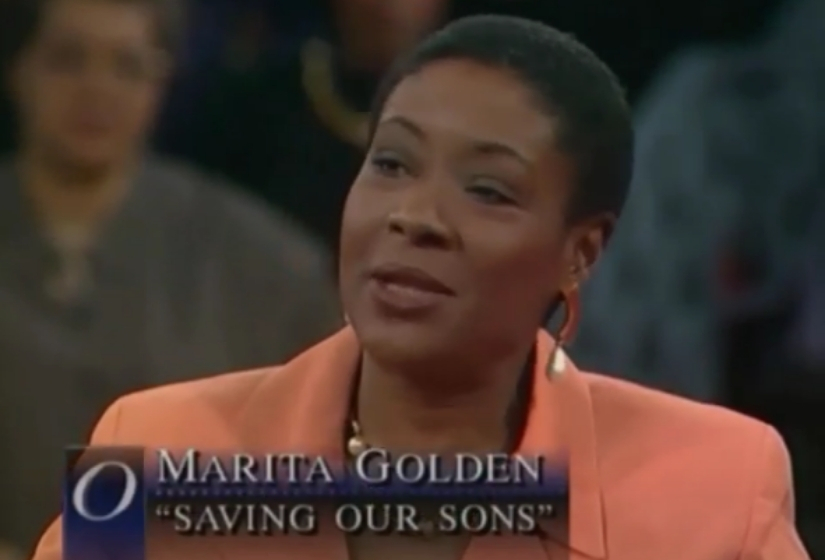 On The Oprah Winfrey Show, Marita Gave Guests Advice On How To Raise a Black Son
Marita's book Saving Our Sons Saving Black Children in a Turbulent World was the focus of considerable media attention upon publication in 1995. Marita was a guest on the Oprah Winfrey Show where along with a panel of guests she discussed the challenges of raising healthy male children and more specifically raising healthy Black boys in a society that presents more obstacles than opportunities.
GRAB A COPY OF MY NEW BOOK!
Invincible. Reliable. Resilient. These are the characteristics of The Strong Black Woman.
The dark underside of this cultural belief that has a chokehold on Black women and the Black community include the following: Ignores self-care. Puts herself last. Shoulders burdens even those not her own. The Strong Black Woman How A Myth Endangers the Mental and Physical Health of Black Women fearlessly examines The Strong Black Woman mentality as a source of resilience for millions of African American women and also a danger to their mental and physical health. The cultural belief in the near invincibility of Black women as bedrocks of their families and communities leads Black women to neglect their emotional and physical health as they prioritize the needs and requirements of others. The legacy of slavery, and systemic racism have resulted in health statistics for Black women that are dire. Black women lead in the incidence of stroke, heart attacks, and obesity -related illness and death.
Because Black women too often believe "Black don't crack" they often feel that they have no time to show weakness or ask for help. But Black does crack and Black women are in the midst of a preventable health crisis.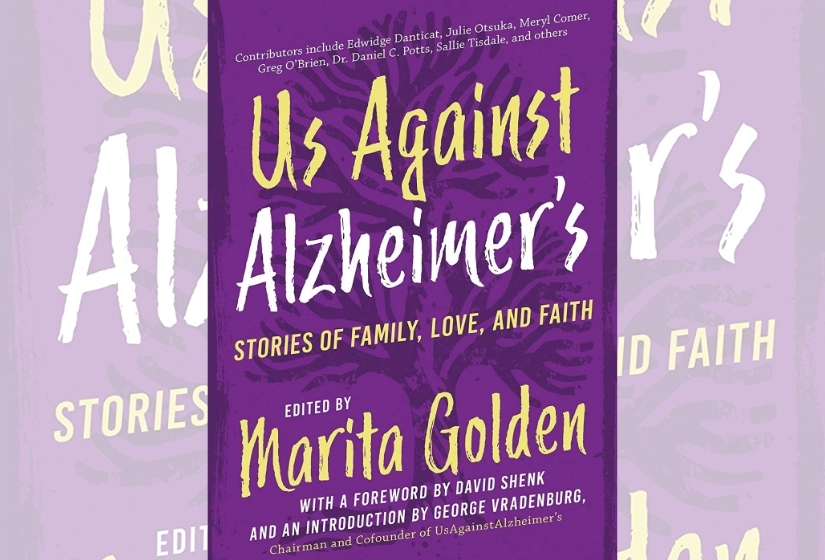 Us Against Alzheimer's
Composed of forty moving personal narratives, essays, and works of short fiction about the impacts of Alzheimer's and dementia, Us Against Alzheimer's: Stories of Family, Love, and Faith (Arcade Publishing, September 2019) is a groundbreaking multicultural anthology that depicts the challenges patients, family, and caregivers face in dealing with this heart-wrenching disease. An estimated 5.7 million Americans are afflicted by Alzheimer's disease, including 10 percent of those over sixty-five, and it is the sixth leading cause of death. But its effects are more pervasive: for all the sufferers, there are more than 16 million caregivers and many more family members. Alzheimer's wreaks havoc not only on brain cells; it is a disease of the spirit and heart for those who suffer from it and for their families. The contributors, who have all generously donated their work, include Edwidge Danticat, Julie Otsuka, Elizabeth Nunez, Meryl Comer, Greg O'Brien, Dr. Daniel Potts, Sallie Tisdale, and Nihal Satyadev. Reflecting the diversity and global nature of the dementia crisis, this anthology is published in collaboration with UsAgainstAlzheimer's.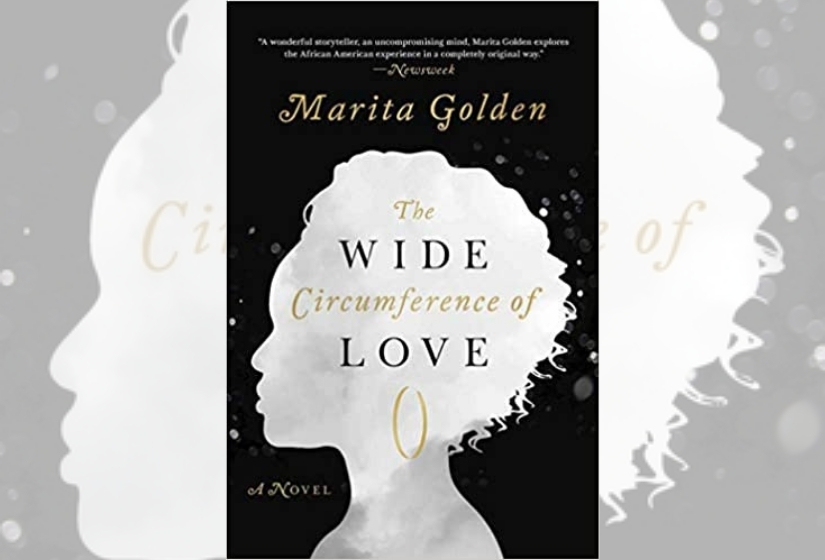 The Wide Circumference of Love: A Novel
From acclaimed author Marita Golden comes a moving African-American family drama of love and devotion in the face of Alzheimer's disease. You just can't plan for this kind of thing. Diane Tate certainly hasn't. She never expected to slowly lose her talented husband to the debilitating effects of early-onset Alzheimer's disease. As a respected family court judge, she's spent her life making tough calls, but when her sixty-eight-year-old husband's health worsens and Diane is forced to move him into an assisted living facility, it seems her world is spinning out of control. As Gregory's memory wavers and fades, Diane and her children must reexamine their connection to the man he once was—and learn to love the man he has become. For Diane' daughter Lauren, it means honoring her father by following in his footsteps as a successful architect. For her son Sean, it means finding a way to repair the strained relationship with his father before it's too late. Supporting her children in a changing landscape, Diane remains resolute in her goal to keep her family together—until her husband finds love with another resident of the facility. Suddenly faced with an uncertain future, Diane must choose a new path—and discover her own capacity for love.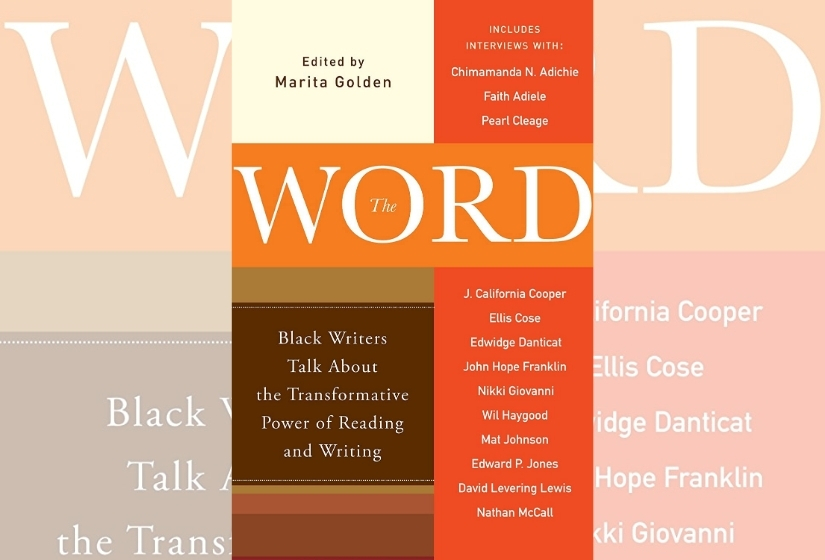 The Word
In these thirteen strikingly candid interviews, bestselling authors, winners of the Pulitzer Prize, and writers picked by Oprah's Book Club discuss how the acts of reading and writing have deeply affected their lives. The stories that emerge from these in-depth interviews not only provide an important record of the creative life of leading Black writers , but also explore the vast cultural and spiritual benefits of reading and writing.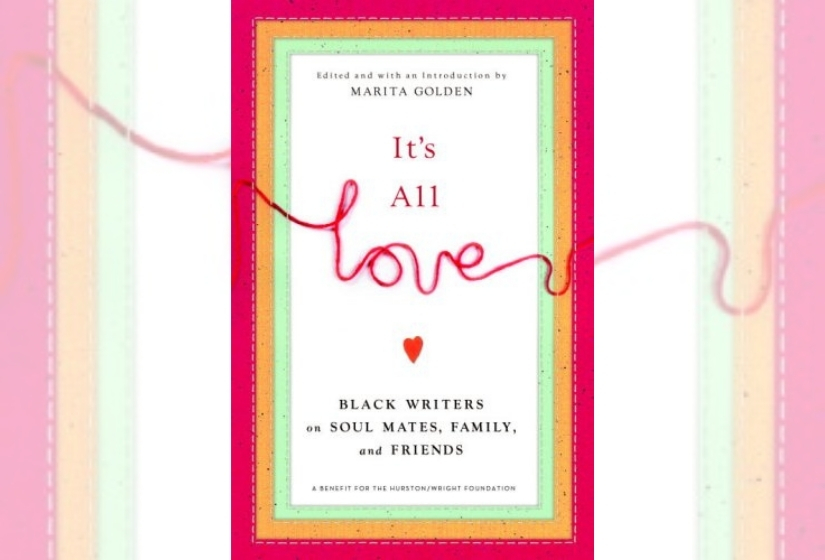 It's All Love: Black Writers on Soul Mates, Family and Friends
In It's All Love, Black writers celebrate the complexity, power, danger, and glory of love in all its many forms: romantic, familial, communal, and sacred. Editor Marita Golden recounts the morning she woke up certain that she would meet her soul mate in "My Own Happy Ending". It's All Love is a dazzling, delightfully diverse exploration of the wonderful gift of love.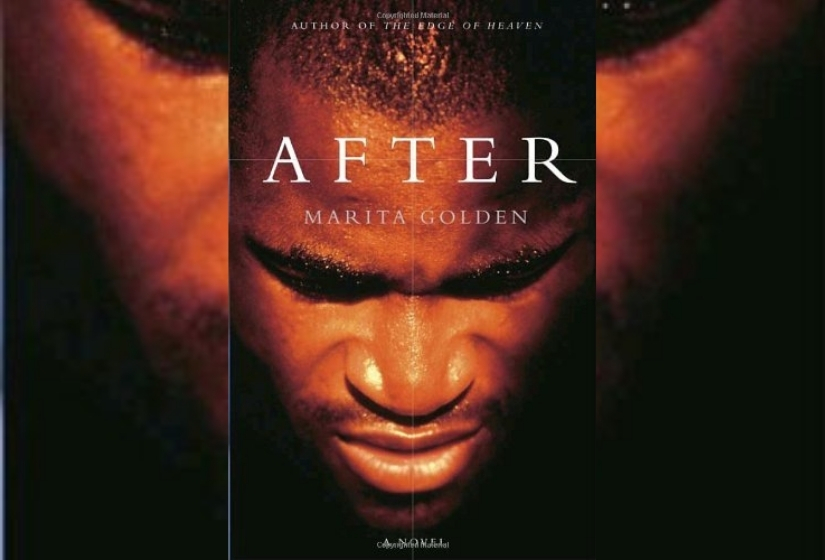 After
The author of half a dozen books on race, both fiction and nonfiction, Golden tackles the subject from a different perspective in her latest novel about a black policeman who kills an innocent young black man. Thinking the driver he just pulled over is reaching for a gun, Maryland police officer Carson Blake shoots first. But what Carson thought was a gun turns out to be a cellphone. Carson; his wife, Bunny; and their three children struggle through the aftermath as Golden explores the baggage that comes with the badge for a black family man.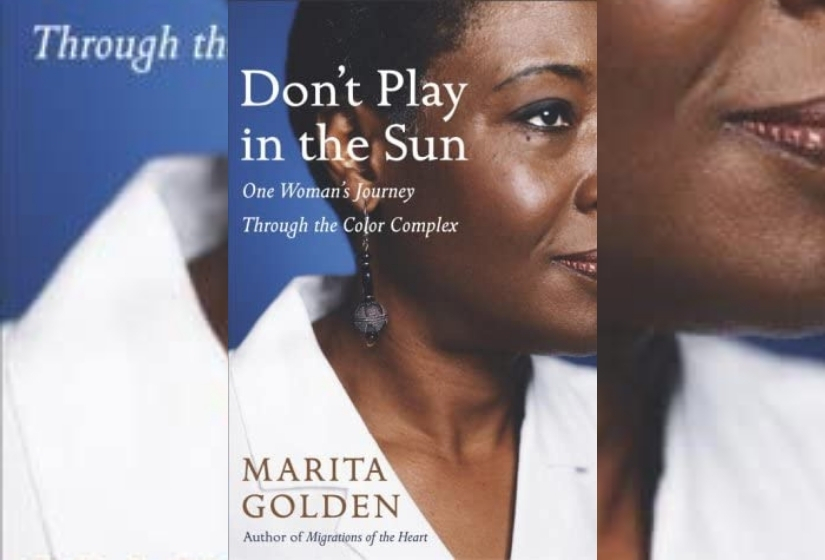 Don't Play in the Sun: One Woman's Journey Through the Color Complex
Golden paints an intimate self-portrait of her life as a dark-complexioned black woman and invites readers to take a behind-the-scenes look at the twisted and emotionally charged path of color-based discrimination that began when she was warned not to play in the sun. She succinctly details how the "light is right, black get back" mentality has permeated the African diaspora, its invasion of black institutions and how it sits just below the radar in Hollywood, athletics, news coverage and music videos. She includes stories from dozens of friends, acquaintances and experts, which as a whole suggest that blacks the world over may have been traumatized as much by colorism as they have by racism and colonialism.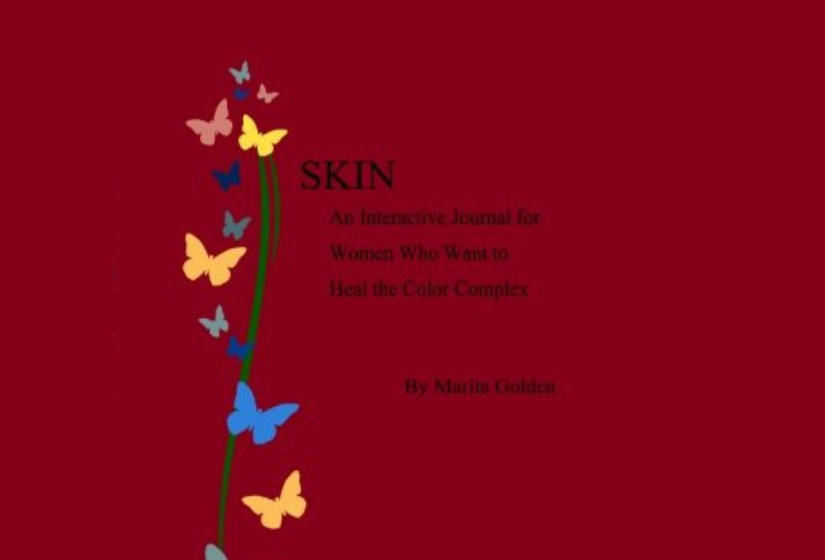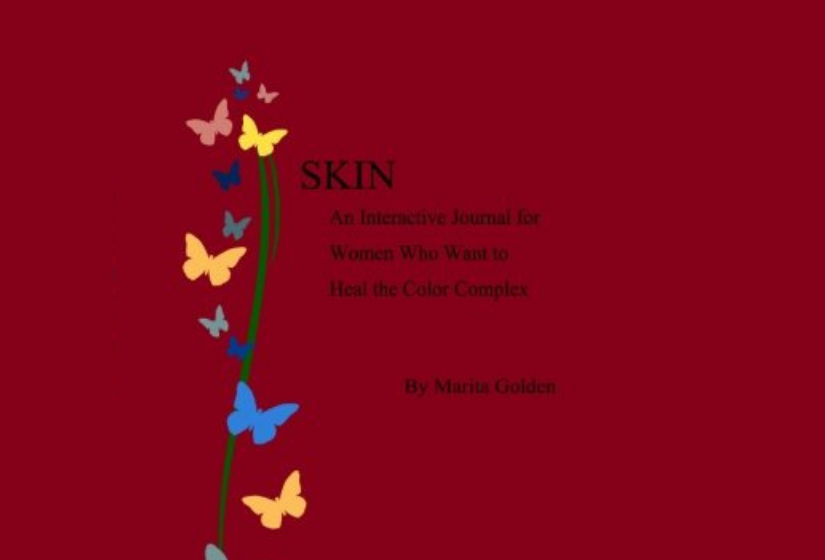 SKIN: An Interactive Journal For Women Who Want to Heal The Color Complex
This workbook is inspired by the memoir Don't Play in the Sun One Woman's Journey Through the Color Complex. Skin is a journal that allows readers to examine with honesty and courage the impact of colorism in their lives. Writing is by its very nature confessional and this journal is designed as a diary where difficult questions are asked. The answers each reader provides will create a roadmap to healing from the trauma and pain of colorism.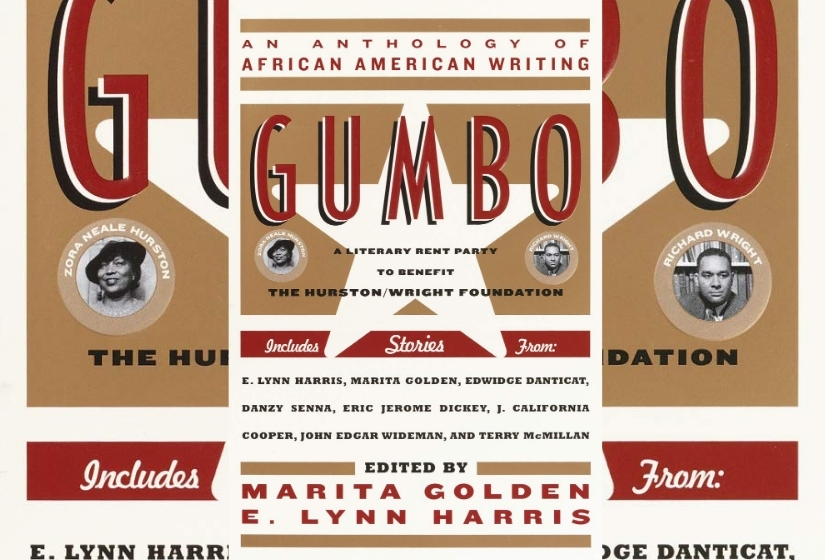 Gumbo: An Anthology of African-American Writing
Marita Golden and E. Lynn Harris Terry McMillan, Bertice Berry, and Connie Briscoe are just a few of the more than 50 African-American writers who contributed to Gumbo, an extraordinary anthology of fiction edited by Marita Golden and E. Lynn Harris. A selection of new and previously published stories written by established and new talent, Gumbo includes tales of love, luck, inspiration and desperation, hip new worlds and hallowed heritage.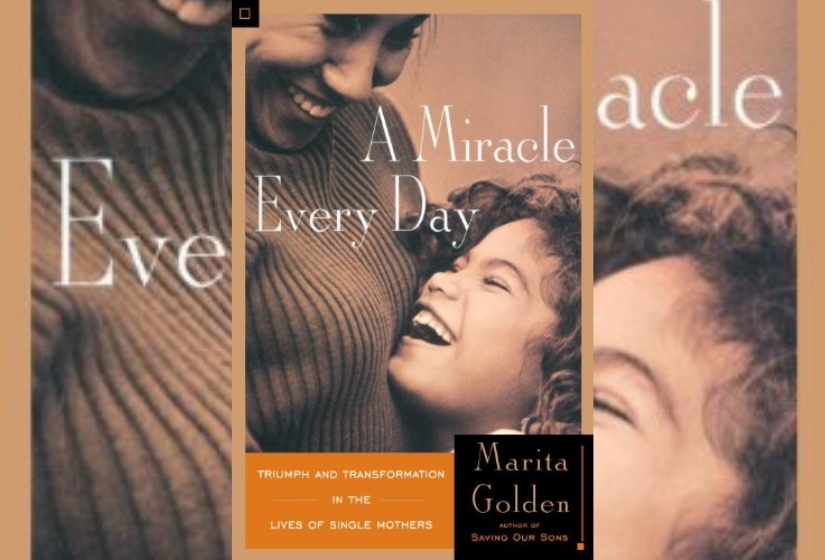 A Miracle Every Day: Triumph and Transformation in the Lives of Single Mothers
A Miracle Every Day Triumph and Transformation in the Lives of Single Mothers takes an illuminating and intimate look at flourishing single-mother families. Single motherhood and the children of single mothers have been the subject of overwhelmingly negative statistical analysis. But, asks Marita Golden, where are the studies that analyze the strengths of single mothers, the positive adaptive skills learned by their children, the support systems that help these families work?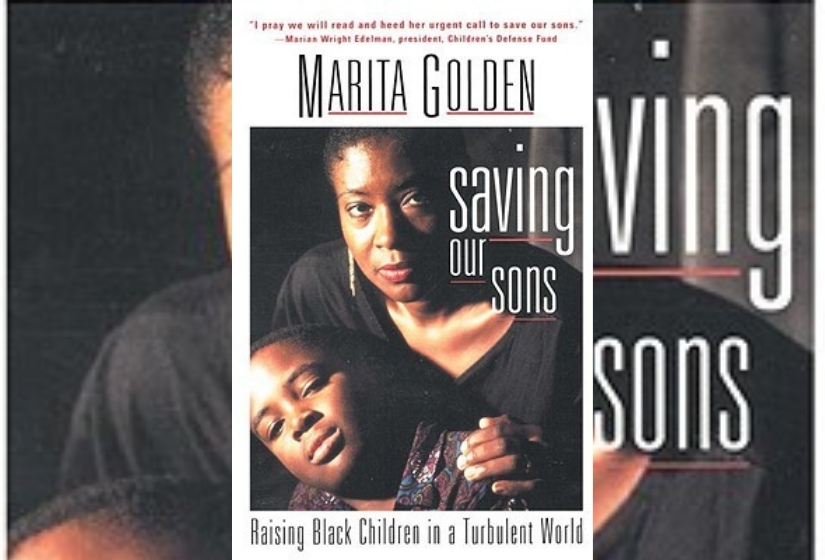 Saving Our Sons: Raising Black Children in a Turbulent World
Through the story of raising her son against the backdrop of a racially divided society, Golden confronts the causes of the violence that surrounds the legacy of her own generation's struggle for civil rights. She talks to psychologists, writers, and young Black men-criminals and scholars both-and explores how single Black mothers are often blamed for troubled youth. In this fiercely lyrical and revealing narrative, Golden has created a work of profound and lasting importance: a book that sensitively and uniquely addresses the problems of boyhood and emerging manhood.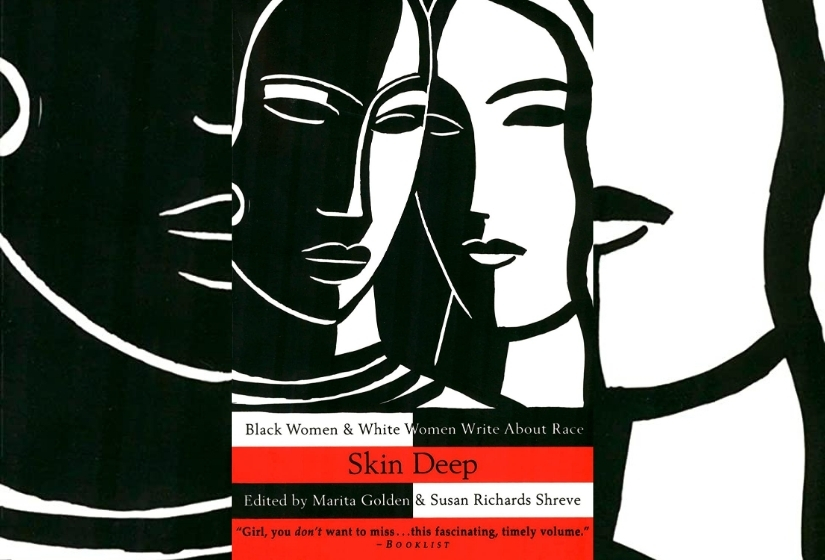 Skin Deep: Black Women and White Women Write About Race
Edited by Marita Golden and Susan Richards Shreve. Probing questions and answers in this fascinating, timely volume. Both editors–are brave, disconcerting, moving, funny, and challenging as they struggle to gaze squarely at the ways American women have penetrated–and failed to penetrate–the multifarious barriers of race. This is scary territory: a landscape littered with betrayals and failures of understanding, but illuminated by precious victories and by the editors' hope that we can "both see and see beyond race," that if we "address our differences . . . [now], the issue of race in our children's generation will be, in fact, skin deep."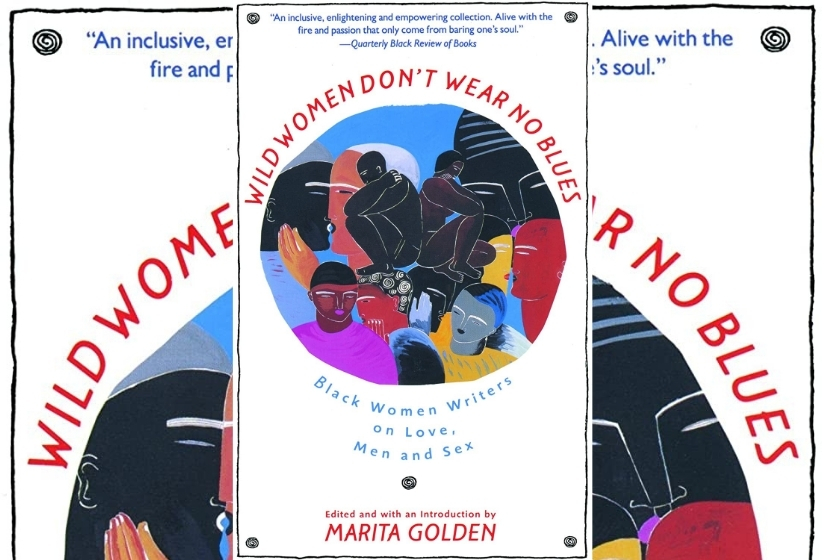 Wild Women Don't Wear No Blues: Black Women Writers on Love, Men and Sex
In this provocative collection of nonfiction pieces, Marita Golden, the critically acclaimed novelist, and fourteen other African-American women writers talk-each in their own distinctive style-about love, men, and sex. These essays-nine of which were written expressly for this book-range in style and content from eroticism to Miram DeCosta-Willis's moving essay about her husband to Audrey B. Chapman's hopeful "Black Men Do Feel About Love." Some are saucy, some spicy, a few use words not usually heard in polite company, and a few of them will leave you gasping or stunned. All of the essays are explorations into the contemporary Black female psyche.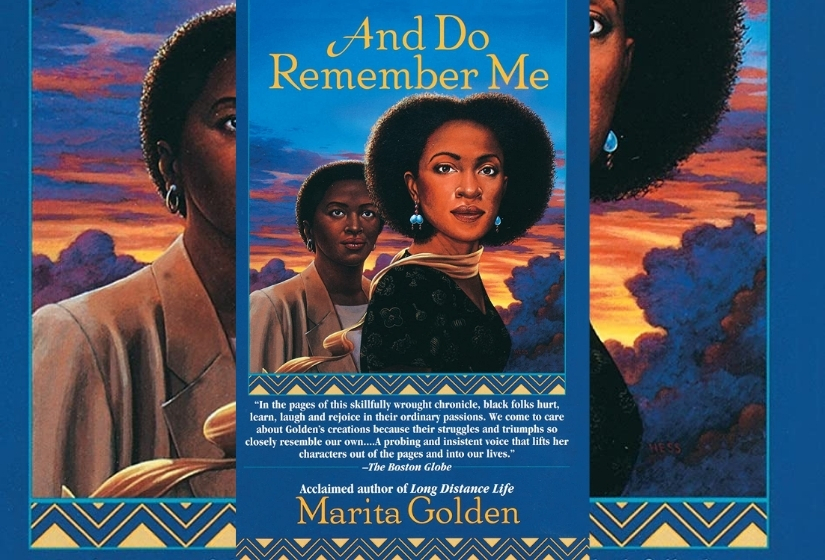 And Do Remember Me
Like Golden's previous books– Long Distance Life, Migrations of the Heart, and A Woman's Place this novel offers an insightful view into the lives of individual African-American women. It opens as Jessie Foster escapes incest by running away from home and subsequently becomes drawn into the Civil Rights movement. With the help of her activist/playwright boyfriend, she discovers a love of acting and later becomes a professional actress. Golden offers a resonant description of the consequences of Jessie's sexual abuse, and her characterization and images are skillfully drawn and believable.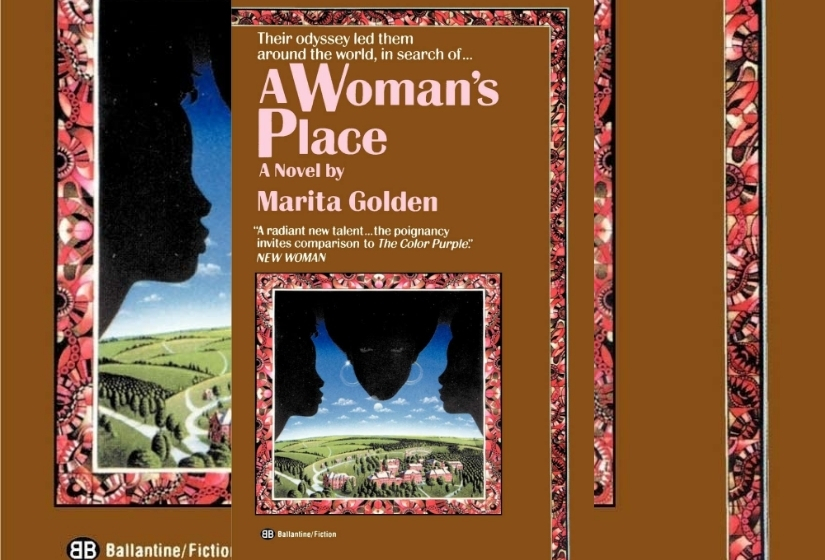 A Woman's Place
The compelling, beautifully told story of three black women who meet at a New England college in the late sixties and form a friendship that will guide them through the changes, the joys, and the tears of the coming years. Faith (later Aisha when she converts to Islam) feels out of place at the exclusive Boston college where they first meet and drops out. Social activist Serena yearns for something more and finds it working in Africa. Tall, brilliant, poetic Crystal is the most introspective, struggling to commit herself to her white lover.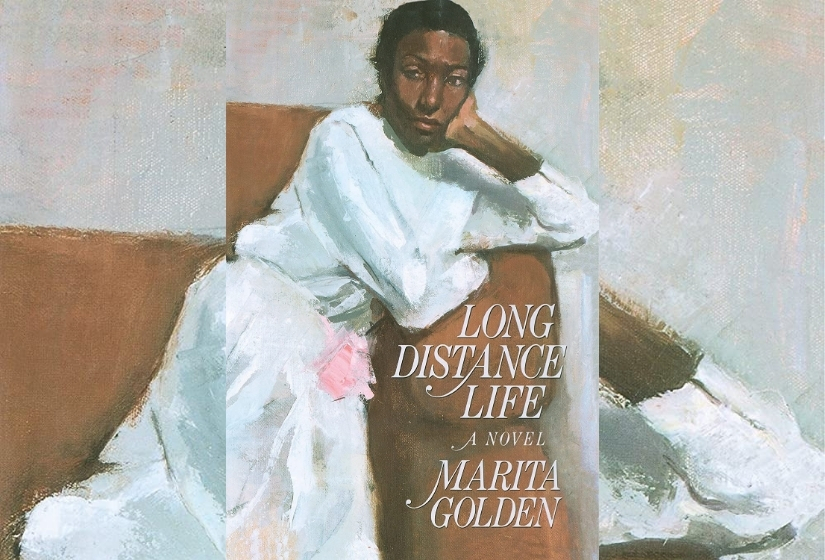 Long Distance Life
The Washington Post said of Long Distance Life, "A novel of impressive artistry and power." Caught in the web of history, generations of an African-American family play out their parts on a world stage that constantly changes, protected always by the love of one another, which never will. Golden explores the baggage that comes with the badge for a black family man.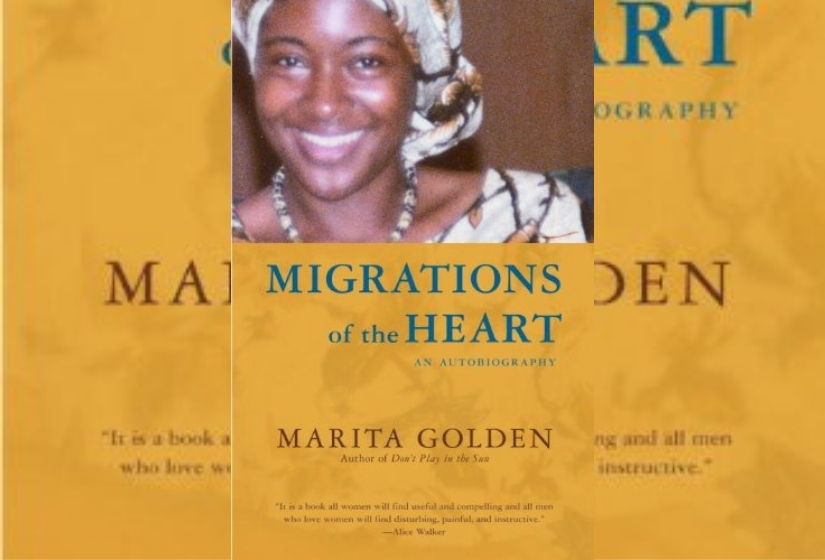 Migrations of the Heart: An Autobiography
In her classic memoir, distinguished author, television executive, and activist Marita Golden beautifully recounts an astounding journey to Africa and back. Her struggle to regain her footing and shape a black identity that was true to her spirit is suspenseful and inspiring, an uncommon tale of race, identity, and Africa.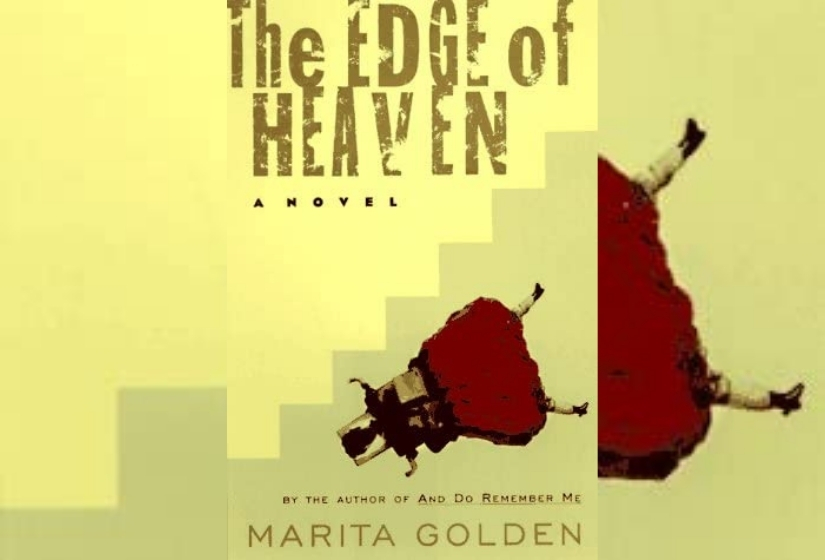 The Edge of Heaven
In The Edge of Heaven, Marita Golden has fashioned a deceptively simple story of a family whose lives have been shattered by a single moment of angry carelessness–told through the eyes of Teresa Singletary, a twenty-year-old college student with an overwhelming emotional burden; her father, Ryland; and her mother, Lena, whose return to her own mother's home has precipitated a reckoning with Teresa. Together they all struggle to find a place to re-learn each other–somewhere that transcends the painful reality etched into their souls–only to discover that even the darkest tragedy is rivaled by love's transforming light.
Marita's Work is Discussed in the Following Books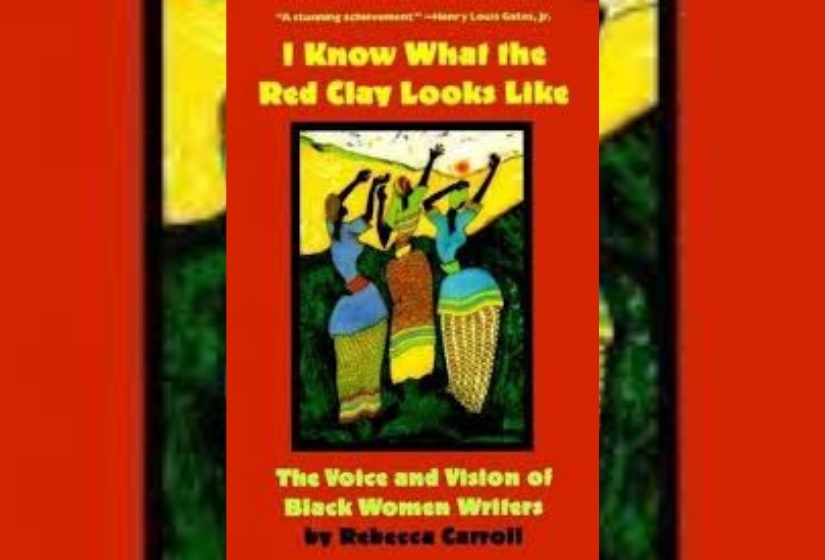 I Know What The Red Clay Looks Like: The Voice and Vision of Black Women Writers
Edited by Rebecca Carroll. In this collection, writer and free-lance editor Carroll conducts interviews with eight of the most famous African-American women writers, who praise the noted black women writers preceding them.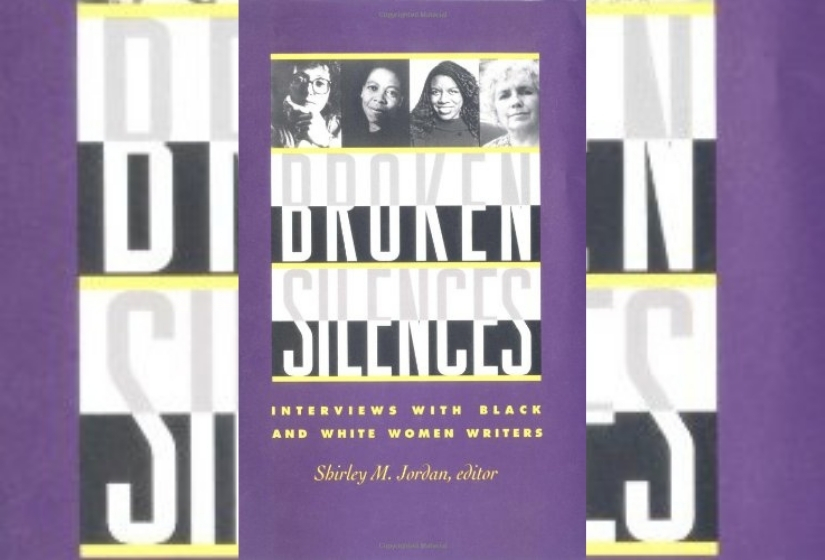 Broken Silences: Interviews with Black and White Women Writers
By Shirley Marie Jordan. By selecting articulate, amusing, impassioned, and introspective authors who have portrayed characters across race lines, Jordan focuses on commonalities, as well as important differences, in this creative process.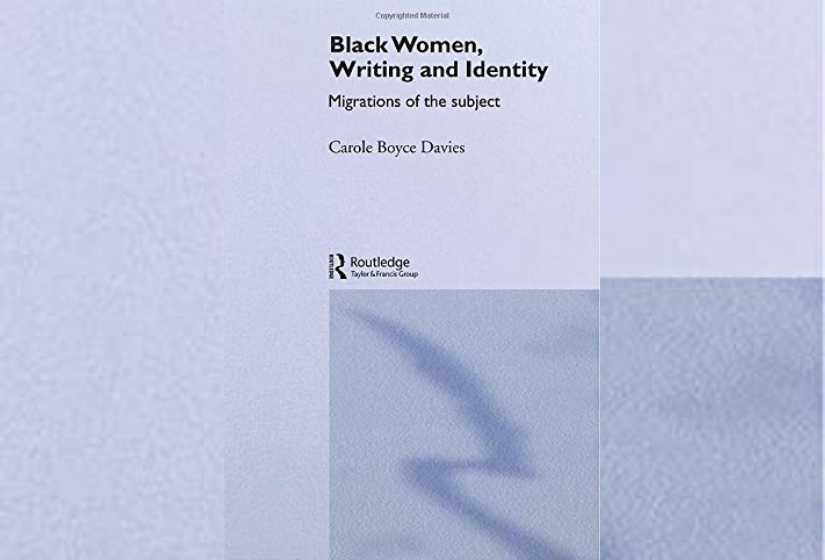 Black Women, Writing and Identity: Migrations of the Subject
By Carole Boyce Davies. Black Women, Writing, and Identity is a salient examination of black women's writing and the politics of subjectivity and identity. Emerging out of a critical need to situate black women's writing in a cross-cultural perspective, Carol Boyce Davies investigates critically the complexities, the contradictions, and the constraints which both determine and displace the black woman writer's identity.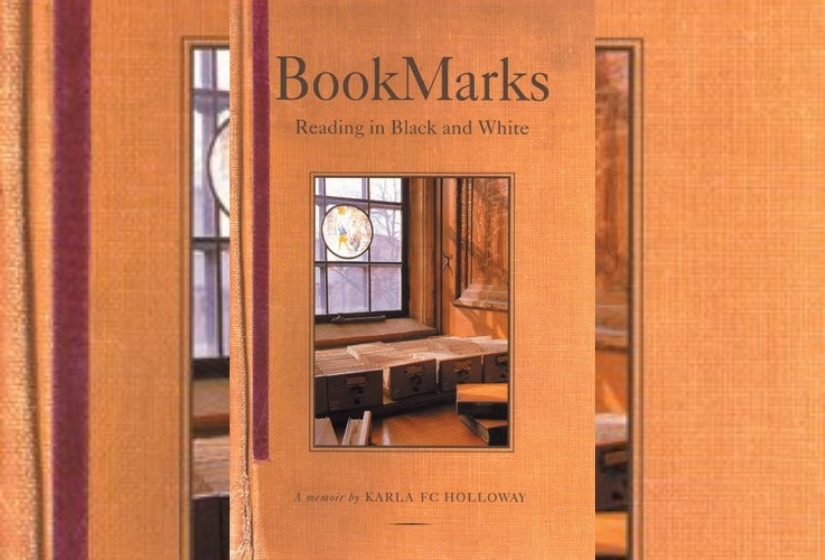 BookMarks: Reading in Black and White
By Karla F. C. Holloway. BookMarks provides a unique window into the ways that African Americans negotiate between black and white cultures. This compelling rumination on reading is a book that everyone should add to their personal collections and proudly carry "cover out."